Win a voucher
Party Town wants to award its loyal customers and welcome others.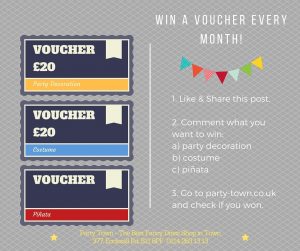 Decoration Voucher – It includes even helium balloons. Don't miss out!
Costume Voucher – Grab the one you want.
Piñata Voucher – a Chilli, Mexican boot, Sombrero (the most popular), Mickey Mouse, Bull, Donckey, Strawberry Unicorn piñatas…
Click here to visit our Facebook page. More info.
Piñatas
Have the best and perfect party ever. They are not only for kids! Who said that?
We are officially on Instagram now! Come and join our page, view our photos and share your own!
Be sure to tag us at @instapartytown!
Feel free to use the hastag #sheffpartytown on your photos  or any related hastags (eg. #sheffieldparty, #fancydress, #balloons, #partydecoration,  etc).